Reason to Invest in VGI
1. A unique position to grow revenue
VGI has branched out beyond the traditional offline Out-of-Home ("OOH") to the online world, where we have successfully established ourselves as the market leader in Thailand. With the integration of OOH and our world-class online/digital platforms, bridged by the utilisation of the Rabbit Data, we envisioned ourselves as the leader in Offline-to-Online ("O2O") Marketing Solutions, with the aim to create a seamless and meaningful customer experience both online and offline. Our sales strategy has therefore shifted from solely being a platform provider to one that offers O2O Marketing Solutions enabling advertisers to reach their target audiences at every stage of the consumer journey with greater efficiency and effectiveness.
2. Diversified world-class assets
Our diversified portfolio consolidates a multitude of OOH advertising channels from transit, outdoor and street to buildings and airports, with over THB 12,000m inventory on hand. Rabbit Group, our digital spearhead, has also partnered with key players in various industries including transportation, logistics, telecommunications, mobile and messaging and micropayment applications; thus, allowing us to reach over 18m reachable data, have allowed us to provide better predictions and smarter solutions for brands with relevant advertising, in the right place, at the right time and with the right message.
3. Leading and exclusive market positions
VGI is the leading provider of OOH media, which is the fastest growing media sector with over 70% market share in Thailand. Given the high barriers to entry in the mass transit industry, our competitive advantage lies in our unique contract portfolio, where we have secured 30-year exclusive contract with our parent company BTS to be the sole media provider in Bangkok CBD areas. At the same time, our future growth prospect is reinforced by our relationship with BTS given its preeminent role in mass transit development in Thailand, and with 5 to 6 times expected increase in transit media capacity by 2022/23. Meanwhile, our subsidiary business, the Rabbit Group, is also the largest micropayment service provider in Bangkok.
4. Largest and most profitable media company
We are the number one listed media company on SET with a market capitalisation of THB 68,459m (USD 2,152m) as of May 2020. We are also the most profitable OOH media company in Thailand and stand among the top five most profitable OOH media companies in Asia, generating THB 4,000m in total sales revenue with a superior profit margin of 35.6% in 2019/20. Our diversified business portfolio, coupled with our leading position in the industry and financial strength over the past years, clearly indicates VGI's strong growth potentials. While our dividend policy also promises an attractive return for shareholders, offering no less than 50% of our net profit in dividend payment.
Strategy
Since VGI has successfully established itself as the Offline-to-Online (O2O) Solutions provider with a comprehensive ecosystem – Advertising, Payment and Logistics. We are able to offer higher quality of advertising and marketing campaigns at every touch point of the customer journey, bridging by the Group's data to provide a better solutions for our clients.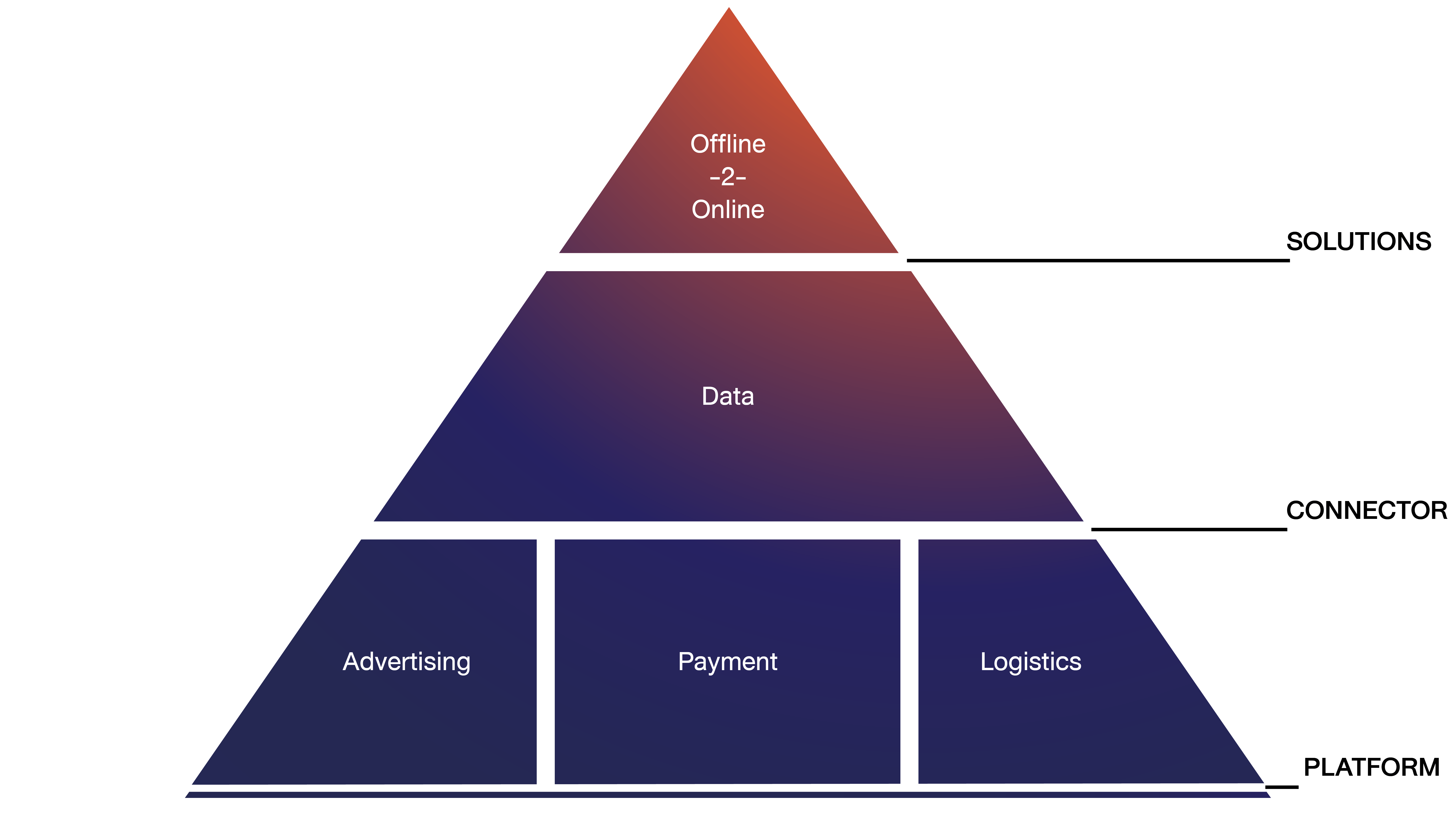 Value
We believe in long-term value creation. Creating sustainable value for our shareholders, partners and society is our fundamental principle.
Growth
We aim to achieve industry-leading growth. Strengthening our unique business units and partnering with key complimentary market leaders around the world is our key growth differentiator.
Innovation
We commit to digital, technologies and R&D excellence to develop and launch new generation products and solutions that meet ever-changing consumer demands.
Outlook and Target:
Despite the sharp economic contraction in Thailand during the past year, which marks almost the sharpest decline since the 1997 Asian Financial Crisis, BOT still expects GDP growth for 2021, supported by the Government's economic stimulus measures and plan to distribute the COVID-19 vaccine throughout the year. In light of these improvements, VGI forecasts a revenue target of THB 3,500 – 4,000mn and net profit margin in the range of 15 – 25%.
Nevertheless, with the new wave of COVID-19 outbreak starting in April 2021, the Company will continue to closely monitor the situation, while stabilising our liquidity and maintaining a strong balance sheet in order to be proactive in taking the necessary steps to tackle sudden challenges. We strongly believe that once the market rebounds, VGI will be able to deliver a strong performance in the best interests of all stakeholders.